섕 수틴(Chaim Soutine)FOLLOW
1893년 프랑스 파리 출생 - 1943년 사망
파리에서 활동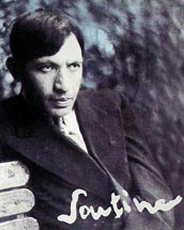 추가정보
Soutine was born in Smilavichy near Minsk, (modern day) Belarus (then part of the Russian Empire). He was the tenth of eleven children.

From 1910-1913 he studied in Vilnius at the Vilna Academy of Fine Arts. In 1913, with his friends Pinchus Kremegne (1890-1981), and Michel Kikoine (1892-1968), he emigrated to Paris, where he studied at the Ecole des Beaux-Arts under Fernand Cormon. He soon developed a highly personal vision and painting technique.

For a time, he and his friends lived at La Ruche, a residence for struggling artists in Montparnasse, where he became friends with Amedeo Modigliani (1884-1920). Modigliani painted Soutine's portrait several times, most famously in 1917, on a door of an apartment belonging to Leopold Zborowski (1889-1932), who was their art dealer. Zborowski supported Soutine through World War I, taking the struggling artist with him to Nice to escape the German bombing of Paris.

In 1923, the American collector Albert C. Barnes (1872?951), visited his studio and immediately bought 60 of Soutine's paintings.

Soutine once horrified his neighbours by keeping an animal carcass in his studio so that he could paint it (Carcass of Beef). The stench drove them to send for the police, whom Soutine promptly lectured on the relative importance of art over hygiene. Soutine painted 10 works in this series, which have since became his most iconic. His carcass paintings were inspired by Rembrandt's still life of the same subject, which he discovered while studying the Old Masters in the Louvre. In February 2006, the oil painting of this series 'Le Boeuf Ecorche' (1924) sold for a record £7.8 million ($13.8 million) to an anonymous buyer at a Christies auction held in London - after it was estimated to fetch £4.8 million.

Soutine produced the majority of his works from 1920 to 1929. He seldom showed his works, but he did take part in the important exhibition The Origins and Development of International Independent Art held at the Galerie nationale du Jeu de Paume in 1937 in Paris, where he was at last hailed as a great painter. Soon thereafter France was invaded by German troops. As a Jew, Soutine had to escape from the French capital and hide in order to avoid arrest by the Gestapo. He moved from one place to another and was sometimes forced to seek shelter in forests, sleeping outdoors. Suffering from a stomach ulcer and bleeding badly, he left a safe hiding place for Paris in order to undergo emergency surgery, which failed to save his life. On August 9, 1943, Chaim Soutine died of a perforated ulcer. Soutine was interred in Cimeti?e du Montparnasse, Paris.