프레드릭 레이턴(Lord Frederic Leighton)FOLLOW
1830년 영국 스카버러 출생 - 1896년 사망
영국에서 활동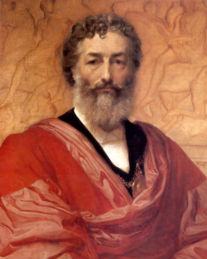 추가정보
He was educated at University College School, London. He then received his artistic training on the European continent, first from Eduard Von Steinle and then from Giovanni Costa. When in Florence, aged 24, where he studied at the Accademia di Belle Arti, he painted the procession of the Cimabue Madonna through the Borgo Allegri. He lived in Paris from 1855 to 1859, where he met Ingres, Delacroix, Corot and Millet.

Flaming JuneIn 1860, he moved to London, where he associated with the Pre-Raphaelites. He designed Elizabeth Barrett Browning's tomb for Robert Browning in the English Cemetery, Florence in 1861. In 1864 he became an associate of the Royal Academy and in 1878 he became its President (1878?6). His 1877 sculpture, Athlete Wrestling with a Python, was considered at its time to inaugurate a renaissance in contemporary British sculpture, referred to as the New Sculpture. His paintings represented Britain at the great 1900 Paris Exhibition.

Leighton was knighted at Windsor in 1878, and was created a baronet eight years later. He was the first painter to be given a peerage, in the New Year Honours List of 1896. The patent creating him Baron Leighton of Stretton in the County of Shropshire, was issued on 24 January 1896; Leighton died the next day of angina pectoris.

Sir Frederick Leighton in his studio in 1888. As he was unmarried, after his death his Barony was extinguished after existing for only a day; this is a record in the Peerage. His house in Holland Park, London has been turned into a museum, the Leighton House Museum. It contains a number of his drawings and paintings, as well as some of his sculptures (including Athlete Wrestling with a Python). The house also features many of Leighton's inspirations, including his collection of Iznik tiles. Its centrepiece is the magnificent Arab Hall. The Hall is featured in issue ten of Cornucopia.